Call Fields Fence for free fencing estimate: (201) 897-7117

A classic that never goes out of style is wood fencing. It is commonly used to provide aesthetics, privacy and secure the perimeters and borders of your homes, gardens, farms and other properties.
Wood types, sizes and styles are numerous. Posts come in varying thickness and heights. They can be accented with gates and caps. Post installation is the foundation of every fence. A securely installed post will not move providing stability and strength to your fence.
Types of wood fencing include:
Picket style: probably the most popular style because of its ease of installation and versatility in design. Picket fences are lovely to look at, with or without painting. They can be natural stained or painted. Stockade style picket fences, also referred to as sold board fencing are 4 to 6 feet high fence high without spacing in between.
Shadowbox: natural, painted or stained two sided semi through fence that gives you semi-privacy. Shadowbox fencing is neighbor friendly since they are two sided.
Split Rail: There are numerous wood choices for split rail fencing including pine, spruce, hemlock and red cedar. The western red cedar is notorious for best durability and resistance to weather. It is an ideal option due to pricing and ease of installation. Common uses include perimeter s around properties and boundary definition. They are decorative for both residential homes and horse and livestock farms.
Slip board Fencing: You've seen this style at horse farms. The most handsome are those painted in white found at many horse farms and stables. They can also be installed in natural appearance and treated for weather resistance.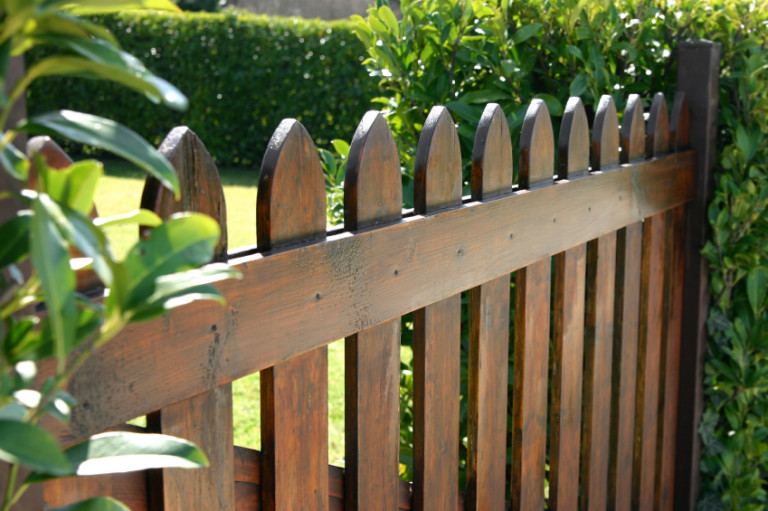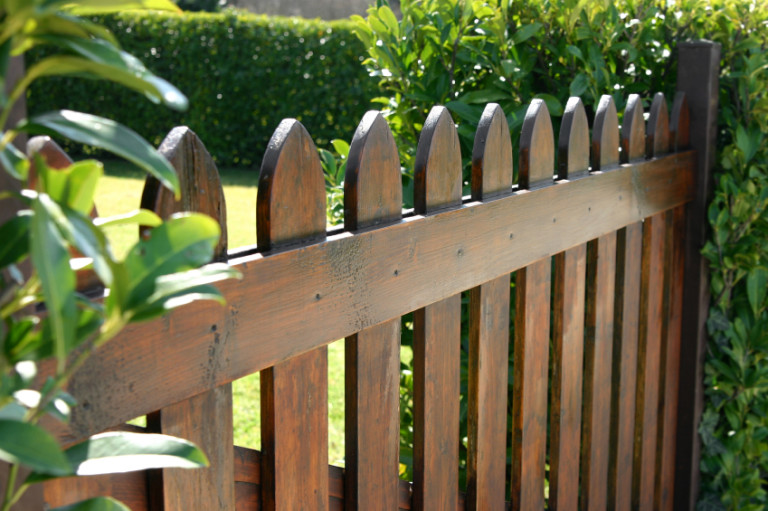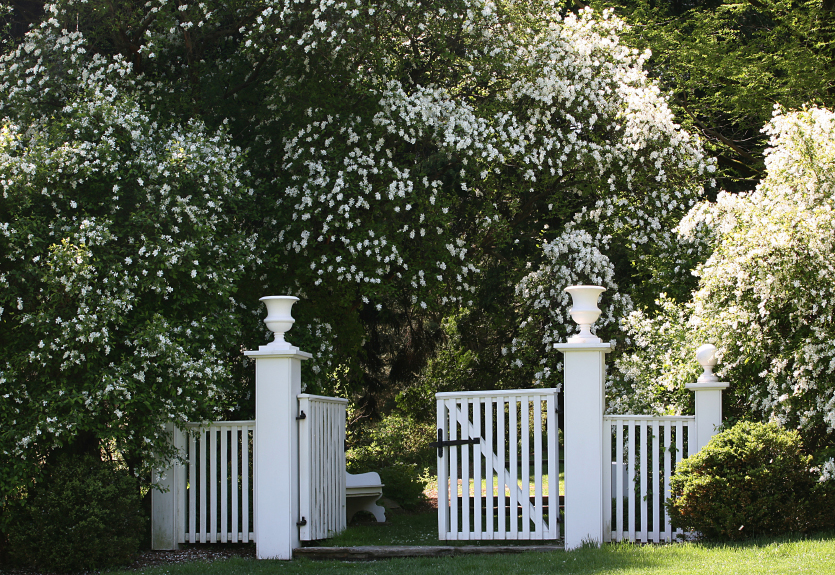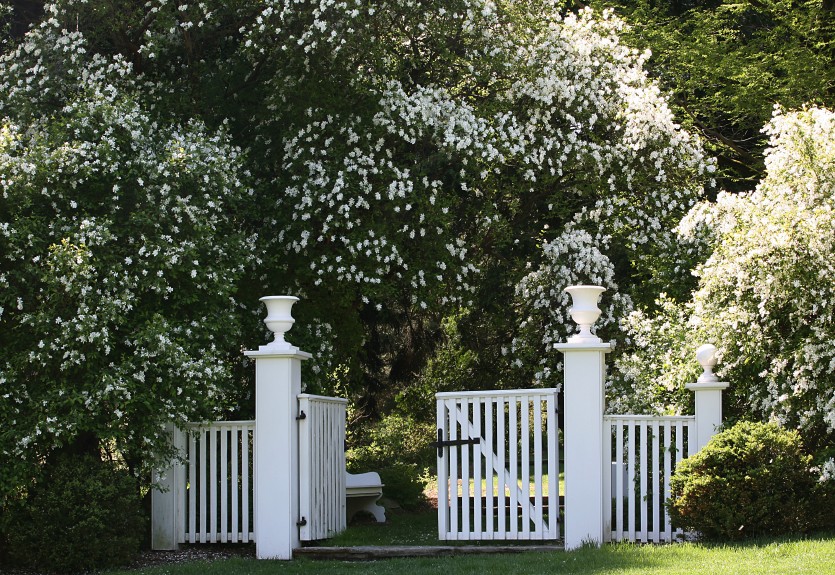 Vinyl fencing is an affordable synthetic fence that resembles wood. Vinyl is rot and insect free vinyl.
Wood styles like ranch rails, pickets and stockades are also available in vinyl. There are ornamental styles complete with scalloped pickets and lattice tops. Stained walnut with lattice tops, stone patterns and horse fencing are just some of the vinyl fences available.
Vinyl is available in styles for custom gates and post caps. You can add arbors, gazebos and trellis to beautify your garden. Vinyl fencing means worry free maintenance and repairs for years to come. Call Fields Fence now for installation and repair.
Rust free, durable and lightweight that is similar to wrought iron is aluminum fencing. Aluminum fencing is available in a variety of colors and designs that will complement your backyard or landscape. Various shades of white, green, beige, bronze and black are some of the colors available for aluminum fencing.
Aluminum fencing is frequently found at entrances of luxury homes with security gates. You will find them used around swimming pools, railing for balconies and rooftop gardens and terraces in urban areas.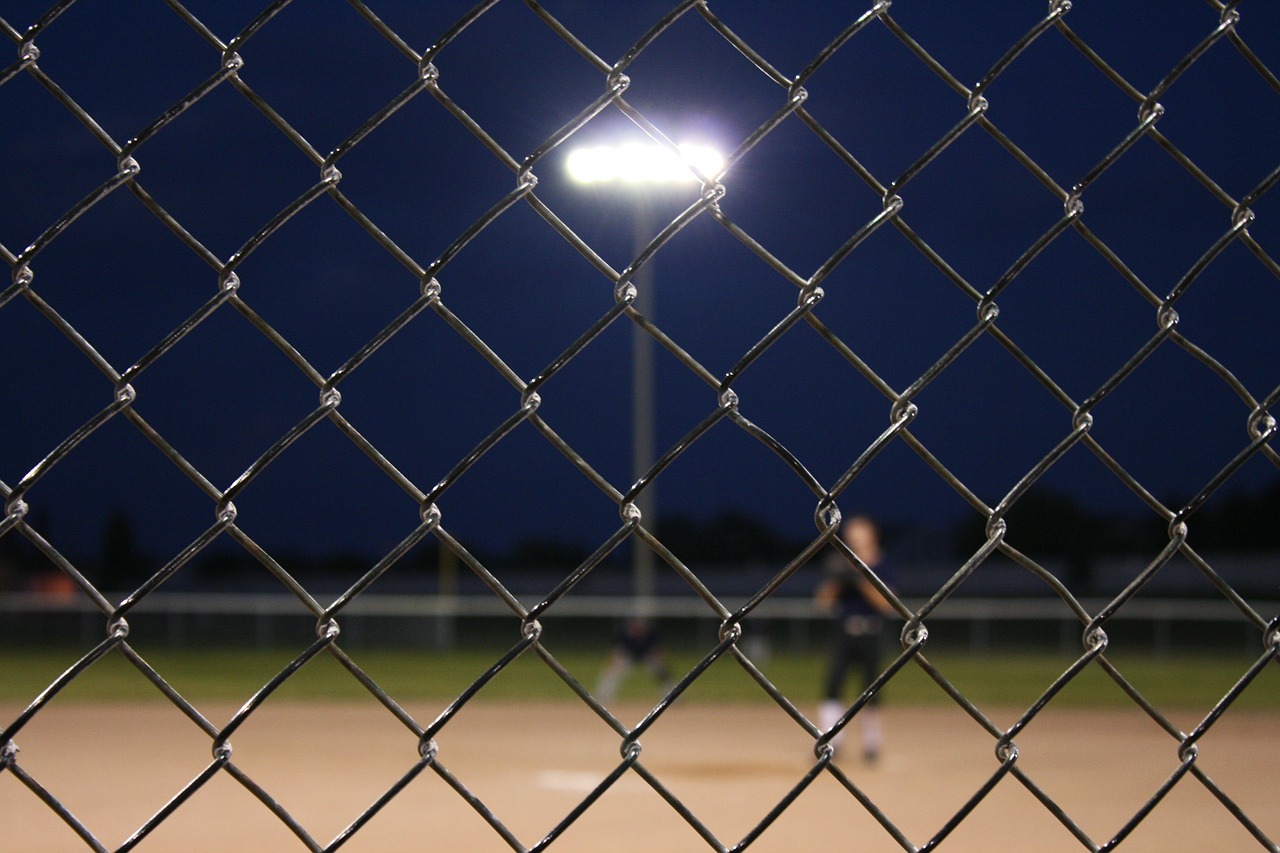 Chain link fences are also referred to as mesh fence or wire netting. They are made of galvanized, aluminum or stainless steel.  They are affordable and durable. Chain link fences are used in gardens, schools, ballparks, and kennels. They are available in silver grey with other color option including green, black, brown and white.
Razor or barbed wire can be added on top of the chain link for the ideal security preventing unwanted intruders. Several options are available should you wish to add function and decorative style to your chain link fence.
Custom sized gates with mechanical functions are available. Your options include door like or sliding with wheel supports. Different accessories like wind screens in various colors are also available. Most chain link fence installations takes up to a few days to a few weeks depending on the size. Looking for a fence company to handle the installation for your home or business?
Please give us a call today (201) 897-7117 for more information.


   Hackensack, NJ 07601
  (201) 897-7117
Bergen County: Hackensack, Bogota, Maywood, South Hackensack, Teaneck, Lodi, Hasbrouck Heights, Rochelle Park, Teterboro, Ridgefield Park, River Edge, Little Ferry, Saddle Brook, Leonia, Wood Ridge, Moonachie, Bergenfield, New Milford, Garfield, Englewood, Palisades Park

07602, 07601, 07603, 07607, 07606, 07666, 07644, 07604, 07662, 07608, 07660, 07699, 07661, 07643, 07663, 07605, 07075, 07074, 07621, 07646, 07026, 07631, 07650
Fence Permit and Code Information in Bergen County New Jersey Local Building Departments

City of Hackensack
65 Central Avenue
Hackensack, NJ 07601
201-646-3980
Borough of Bogota
375 Larch Avenue
Bogota, NJ 07603
201-342-1736
Maywood Municipal Building
15 Park Avenue
Maywood, NJ 07607
201-845-2900
Borough of Moonachie
70 Moonachie Road
Moonachie, New Jersey 07074
201-641-1857
Bergenfield
198 N Washington Ave
Bergenfield, NJ 07621
201-387-4055
Township of Rochelle Park
151 West Passaic St
Rochelle Park, NJ 07662
201-587-7730
Borough of Teterboro
510 Route 46 West
Teterboro, New Jersey 07608
201-288-1200
Village of Ridgefield Park
234 Main St,
Ridgefield Park, NJ  07660
201-641-4950
Borough of River Edge
705 Kinderkamack Road
River Edge, NJ 07661
201-599-6322
Borough of Little Ferry
215-217 Liberty St
Little Ferry, NJ 07643
201-641-9234
Township of Saddle Brook
540 Saddle River Rd
Saddle Brook, NJ 07663
201-843-7111
Borough of Leonia
312 Broad Avenue
Leonia, New Jersey 07605
201-592-5780
Wood Ridge
85 Humboldt Street
Wood-Ridge, NJ 07075
201-939-5188
Palisades Park
275 Broad Avenue
Palisades Park, NJ 07650
201-585-4100
Englewood
2-10 North Van Brunt Street
Englewood, NJ 07631
201-871-6642
New Milford Borough Hall
930 River Road
New Milford, NJ 07646
201-262-7967
City of Garfield
111 Outwater Lane
Garfield, NJ 07026
973-340-2106
Borough of Lodi
One Memorial Drive
2nd Floor, Room 204
Lodi, NJ 07644
973-859-07644
Township of Teaneck
Municipal Building
818 Teaneck Road
Teaneck, NJ 07666
201-837-1600
Cities & Counties We Service