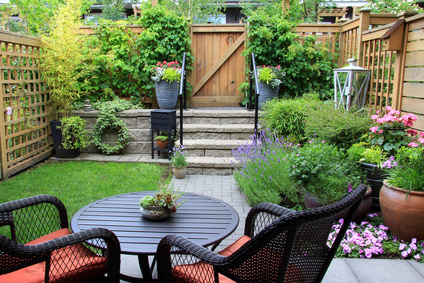 Wood fencing is the most traditional type of fence property owners use for home and business. And for good reason…it looks amazing! Wood can be used for everything from short picket fences to tall privacy fences. Formed from various tree woods, they can be basic and simple or as ornate and elaborate as you want.
Styles of Wood Fencing

Wood fencing comes in a number of different styles:

• Solid board – these fences feature very little space between each of the boards, creating a private and secure space.
• Spaced pickets – unlike solid board fences, there's a good amount of space between the boards. You don't get as much privacy, but these fences can keep children or pets in and look very nice.
• Shadowbox – these fences are like solid board fences, but with more spacing in between. Both sides of a shadowbox fence look the same, so there's no back side.
• Lattice top – these solid board fences have a decorative latticework at the top.
• Tongue and groove – this solid board fence has a decorative section at the top and is very strong. It also is more resistant to warping due to its unique construction.
• Stockade – this style uses milled pickets to create a solid board fence.
• Slip board – this type of wood fencing features large spaces between boards fastened horizontally to spaced out posts.
The Best Types of Wood to Use
There are a number of different types of wood you can use for your wooden fence. Each type varies in look, durability and cost.
• White Oak
• Western Red Cedar
• Black Locust
• Ipe
• Tigerwood
• Brazilian Cherry
• Treated Pine
In addition to these types of natural wood, there's also a type of synthetic wood available for fence construction. It's made out of PVC and is durable yet expensive.
Have any questions about the different types of wood to use for your project? Contact us today and we'll answer all of your questions!
Other Services We Offer:
Counties We Service:
Orange County NY Sussex County NJ