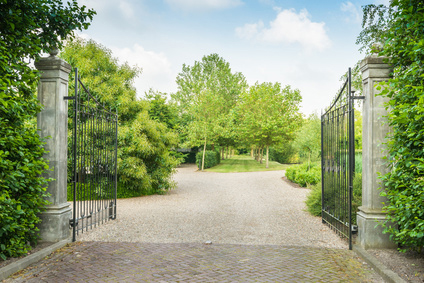 Out of all the different types of fencing, aluminum fencing stands out because of its stunning good looks. This fence type resembles wrought iron, but it's much cheaper and easier to install. If you're looking for a way to add a touch of class to your property, an aluminum fence may be exactly what you want.

Advantages of Aluminum Fencing

• Very affordable
• Durable
• Great looking
• Available in multiple colors and decorative styles
• Differing strengths for variety of applications and needs
Fence Types to Consider
Residential
Homeowners often choose aluminum because of how it looks and because it provides some security without obstructing views. You can use it to define your property line or to keep children and pets in your yard.
In addition to standard residential fencing, wide aluminum posts and bars are also available. This option spaces out the panels, leaving more gaps in the fence. It gives you an even less obstructed view while still providing some security.
Commercial
Commercial aluminum offers stronger and heavier materials than residential options. It's useful for areas where you need security, yet you still want a decorative fence that adds to the overall appeal of the property. Schools, churches, cemeteries, apartment complexes, restaurants, parks and amusement parks often use this style to protect their properties.
Industrial
The heaviest and strongest of all, industrial fence panels are typically spaced close together. They also may be taller than residential or commercial options with less decorative features. Property owners tend to use this style at industrial parks, government buildings, universities and airports.
Concealed Fastener Fences
Another option with any of the above fence types includes concealed fasteners. These hide all of the screws and other hardware on fence rails, posts, boards and beams in order to make them appear as a smooth, solid piece of metal.
Other Services We Offer:
Counties We Service:
Orange County NY Sussex County NJ