Installing a garden fence is an attractive way to delineate areas of your property as well as to keep unwanted visitors away from your home.
If you are considering installing garden fence panels, you may have a number of questions regarding the different types of materials, the maintenance they require and how they will wear over time.
Here are some frequently asked questions with answers:
What Are the Benefits of Garden Fences?
Garden fences separate areas of your property, keep out unwelcome animal visitors and help to protect expensive garden plants.
What Types of Garden Fence Are Available?
Wood fence – Placing a wood fence on your property is the best choice for a classic fencing look, such as the American split rail fence. There are a number of varieties of wood from which to choose according to your own personal taste. A privacy fence is always a good option, which offers stockade, lattice, and other designs. Other varieties of wood fence include spaced fences, such as the classic white picket fence, or the split rail fence. Wood fences are good for acting as a pasture fence or a horse fence or a deer fence. If you would like to maintain the look of your fence without needing to treat it with chemicals, select the cedar wood option in order to prevent the wood from decaying.
Aluminum fence – This type of fencing is one of the easiest to install and is also inexpensive. An aluminum fence on your property is sure to add beauty and elegance at a fraction of the cost of wrought-iron fencing. You can choose from among a number of styles and colors to suit your own preferences and outdoor décor. An aluminum fence is also long-lasting, and typically sturdier than wood. Aluminum fencing can also serve as an effective deer fence, horse fence, or pasture fence. If you have a pool on your property, it is always a good idea to have a pool fence, and a pool fence can be easily made with aluminum fencing.
Wrought iron fence – You may have seen wrought iron fencing at luxury homes, parks and universities where money is not an object. It has an elegant appearance with a high price. Installation is more expensive as well. Its heavier than wood, vinyl and aluminum fencing. As a result, installation requires more labor.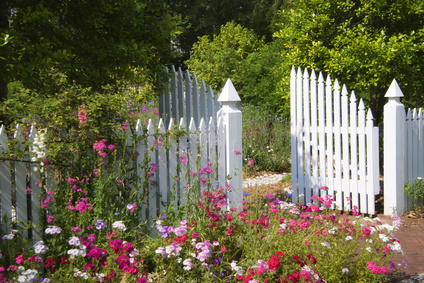 Wrought iron fencing is also more durable than any other fencing material. Though it does have the propensity to rust which you don't have with vinyl or aluminum. Removing rust and repainting may be necessary occasionally.
Vinyl fence – If you would like an easily-maintained fence, vinyl fencing might be the way to go. One of the good things about vinyl fencing is that you can choose from many of the same options as are offered with wood fencing, with vinyl or PVC fencing overall being inexpensive and needing very little upkeep. A privacy fence can also be constructed with vinyl or PVC fencing. If you would like your vinyl fence to have the texture of wood fencing without the expense, ask your fence installer/s for PVC fencing that feels like natural wood. Other styles offered include picket fence varieties and semi-private fences.
Chain link fence – A chain link fence is a great choice for industrial settings, parks, or schools. Chain link fencing costs less than many other kinds of fencing and is also very durable and unlikely to rust for a long time. If you opt for a vinyl coating on your chain link fence, you can apply a color to the fence that will add to its aesthetic, so be sure to consult your fence installer/s for more information. You can also choose from a variety of thicknesses for the mesh for your chain link fence. Another option if you require greater security is the addition of barbed wire.
How Do These Fences Compare in Cost?
Each type of fence varies in initial cost and the amount of maintenance it will require over the years:
The most expensive would be the wrought iron fence. It provides the best appearance and longest durability, but requires periodic maintenance to keep looking good.
An aluminum fence is slightly less expensive and will last for many years. It requires
A wood fence is moderate in cost but requires considerable upkeep to repair damage from the elements.
A vinyl fence is low in cost, and it also requires very little maintenance to keep it looking attractive.
A chain link is generally lowest in cost. It is often the best way to enclose large expanses on property and can be used with an inexpensive fence post and fence gate. It requires little maintenance and can be coated with vinyl to match house color or to provide greater privacy.
How Do I Know Which Type Is Best For My Property?
If your garden area is close to your residence, you may wish to invest in fencing with a highly designed look that fits in with the character of your home. For more remote areas on the property, a chain link fence may be adequate to enclose the area. The fence post and fence gate would be an additional cost. Privacy is another concern. You may want a vinyl fence that obscures visibility from the street or road. The amount of maintenance required is another consideration homeowners should consider.
Each situation determines its own type of fencing installation. If you carefully consider what you need the fencing to do, the initial cost and the ongoing maintenance needs, you can choose the right type for your needs.